PIC ME: HOW TO CHOOSE A BRAND PHOTOGRAPHER
Ready to uplevel your images?
From making a killer website to eye-catching reel covers – professional photos make a huge difference in how people view your brand. A pro photographer knows all the tricks to make you and your business look epic.
Even though I love DIY there's a time in running a business when good enough won't cut it. So when you're ready to invest in hiring a photographer, here's how to find one you'll love.
Start by thinking about the style of images you want. Does your brand suit clear, bold colours and plenty of white space?
Or does it need muted, dusty tones with playful shadows?
Spend some time critically looking at brands with a style and audience like yours. (Remember you're not comparing yourself – you're looking for inspiration.) Note down what you like about their images and what you don't want. Also, take notes on how their audience responds to certain images, you might be surprised at what gets your target market excited.
Getting super clear on how you want your photos to look makes it so much easier to find a photographer you'll love.
Create a moodboard to see if the images you like fit nicely together or if you've ended up with an eclectic mishmash. Having a consistent theme in the style of photos you like helps not only to choose your photographer but to share with them, so they know what you're looking for.
Also, think about where you want the photoshoot to take place.
Not every photographer works in a studio or at the beach. Location is important – so write down what you want the environment to look like.
I chose a studio because:
I wanted a clean background with plenty of space for putting text on.
I didn't want to worry about getting sunburnt, the rain ruining my make-up or the wind blowing my hair in my eyes (fringes and breezes don't mix).
If you're choosing an outdoor location, have a backup plan in case of nasty weather.
Now you've got a list of must-haves, it's research time.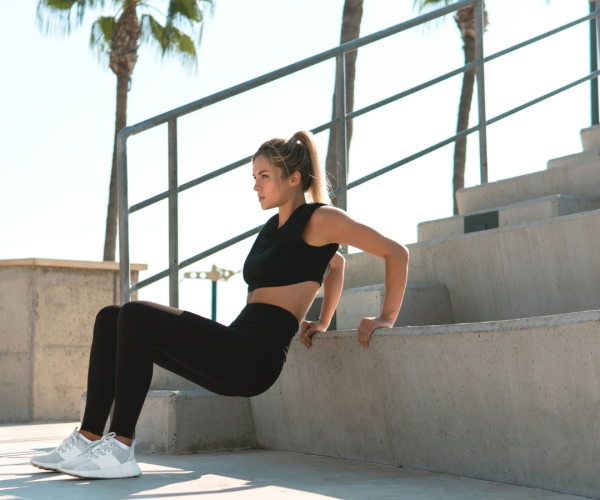 Finding the right photographer for you
No matter where you live, there are loads of talented photographers. So don't focus on finding "the best" but on finding the right one for your business.
Asking for referrals in my local business networking groups gave me a long list of experienced, friendly and skilled photographers in Perth. Chatting with business buddies is the best way to find out what a photographer is like:
how they pose you or if they prefer you to free flow
what their energy during a shoot is like
how long they take to edit your pics
the level of editing they provide
If you don't have anyone to ask, turn to Google and IG. Remember though – the ones who show up may not be the best at what they do – they might just be darn good at SEO. So always jump on a phone call. Even a five-minute chat gives you a decent snapshot of whether they're bubbly and fast-talking or thoughtful and chilled out.
You must feel comfortable with your photographer. Any awkwardness, or worse, distrust, is going to show in the photos. (Not quite the message you want to send to your audience.)
Brand Photographer Shopping Checklist
How much do they cost? We all have some level of budget so check their rates before you fall in love with what they create. If you can't afford a big photoshoot with the photographer you adore right now, many of them offer mini shoots. You might get 15-30 minutes of shoot time in one or two outfits. It'll be enough to update your home and about pages on your website and freshen up your social content.
What does their package include? Some have a studio included, and some add it on. Some offer two outfit changes, some offer unlimited. Maybe you're looking for a photographer who offers videography too. Check the details to make sure the package matches what you need.
Do they understand your industry? One of the reasons I adore my photographer is because she used to do Muay Thai and Cross Fit. She also started out taking photos of Muay Thai. So I know she understands my audience and the types of problems they face. She also made sure I didn't look like a fool posing with boxing gloves and having NFI about where my guard hand should be 😊
Stalk their latest images on socials. Most creative services have portfolios (I do) but we only update them every so often. What you see in a portfolio may be different from the style of photos they're taking now. Go stalk their socials and the accounts of their latest clients to get a quick peek at the recent photoshoots they've done.
How do they communicate? If they're slow to respond to your emails or DM's (as in five days later, not five hours) and they don't answer the questions you're asking – they might not have the commitment level you need. A photographer who cares about you and your brand's success will work hard to be prompt, helpful and efficient.
Talk to them! I said it earlier and I'm saying it again for a particularly good reason. We all tend to get a bit phone-call-phobic these days. But there's nothing like a quick chat to get to know someone (minus the distraction of watching your own image on a video call). Tell them how you feel about getting your photos taken and see how they respond – you'll know if they're the one to help you relax and enjoy the shoot.
My Top 7 Perth Brand Photographers
Perth is loaded with talent! These incredible photographers are as sweet as they are skilled.
Once you find a photographer you're excited to work with, get straight onto booking your photoshoot. They get super busy real quick – many are booked out up to 3 months or more in advance. Plus, you need time to prep for your photoshoot.
Not sure what to do in the lead-up to the big day?